If this is a return visit, please reload to see
latest additions.

Ancient Roman philosphical
and religious views
and some religious observances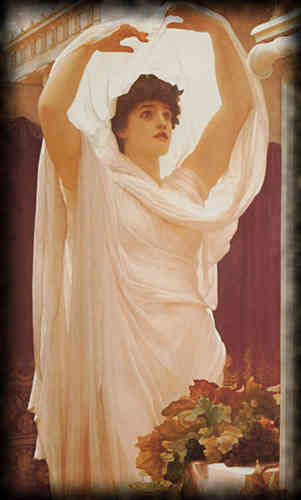 These items are an attempt to give an overview of the different ideas associated with the philosophical, religious and spiritual lives of the ancient Italians and classical Romans. Some are complex, some are short blurbs. Enjoy, and as ever, feel free to return to our little shrine, whenever you like.

Cicero:

Cicero Overview

The Stoics, the Rule of Law, and Ancient Rome

A ROMAN VIEW OF THE AFTER LIFE

Other
Relgious observances
A ROMAN HARVEST SACRIFICE

More to come



Home





All contents on this site are ©2003-2007
Piece above, Invocation, by Sir Fredrick Leighton.

Sets ©2005 & ever after by/to webmistress and made exclusively for Raven Queen's Domain and her partner sites. Please do not snag.