If this is a return visit, please reload to see
latest additions.

Homeric Hymns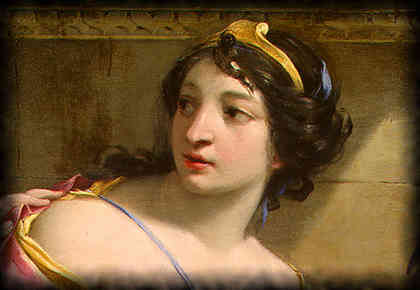 To Dionysus
I will tell of Dionysus, the son of glorious Semele, how he appeared on a jutting headland by the shore of the fruitless sea, seeming like a stripling in the first flush of manhood: his rich, dark hair was waving about him, and on his strong shoulders he wore a purple robe. Presently there came swiftly over the sparkling sea Tyrsenian pirates on a well-decked ship--a miserable doom led them on. When they saw him they made signs to one another and sprang out quickly, and seizing him straightway put him on board their ship exultingly; for they thought him the son of heaven-nurtured kings. They sought to bind him with rude bonds, but the bonds would not hold him, and the withes fell far away from his hands and feet: and he sat with a smile in his dark eyes. Then the helmsman understood all and cried out at once to his fellows and said:

"Madmen! what god is this whom you have taken and bind, strong that he is? Not even the well-built ship can carry him. Surely this is either Zeus or Apollo who has the silver bow, or Poseidon, for he looks not like mortal men but like the gods who dwell on Olympus. Come, then, let us set him free upon the dark shore at once: do not lay hands on him, lest he grow angry and stir up dangerous winds and heavy squalls."

 So said he: but the master chid him with taunting words: "Madman, mark the wind and help hoist sail on the ship: catch all the sheets. As for this fellow we men will see to him: I reckon he is bound for Egypt or for Cyprus or to the Hyperboreans or further still. But in the end he will speak out and tell us his friends and all his wealth and his brothers, now that providence has thrown him in our way."

taken from http://www.perseus.tufts.edu/cgi-bin/ptext?lookup=HH+7+1

This text is based on the following book(s): Anonymous. The Homeric Hymns and Homerica with an English Translation by Hugh G. Evelyn-White. Homeric Hymns. Cambridge, MA.,Harvard University Press; London, William Heinemann Ltd. 1914. OCLC: 41785942 ISBN: 0674990633

*~*~*~*

Back






updated July 31, 2005

All contents on this site are ©2003-2007
Piece above, Detail from Calliope and Urania by Simon Vouet, 1634,

Sets ©2005 & ever after by/to webmistress and made exclusively for Guarding the Cauldron, and her partner sites. Please do not snag.