If this is a return visit, please reload to see
latest additions.

Homeric Hymns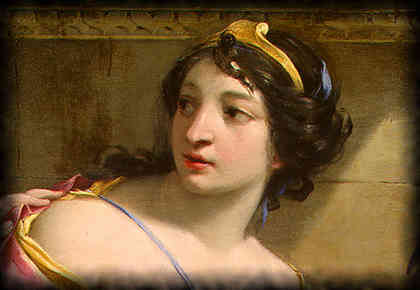 TO ARTEMIS
Muse, sing of Artemis, sister of the Far-shooter, the virgin who delights in arrows, who was fostered with Apollo. She waters her horses from Meles deep in reeds, and swiftly drives her all-golden chariot through Smyrna to vine-clad Claros where Apollo, god of the silver bow, sits waiting for the far-shooting goddess who delights in arrows.

And so hail to you, Artemis, in my song and to all goddesses as well. Of you first I sing and with you I begin; now that I have begun with you, I will turn to another song.

*~*~*~*
from: http://www.perseus.tufts.edu/cgi-bin/ptext?lookup=HH+9+1

This text is based on the following book(s): Anonymous. The Homeric Hymns and Homerica with an English Translation by Hugh G. Evelyn-White. Homeric Hymns. Cambridge, MA.,Harvard University Press; London, William Heinemann Ltd. 1914. OCLC: 41785942 ISBN: 0674990633

Back






updated July 31, 2005

All contents on this site are ©2003-2007
Piece above, Detail from Calliope and Urania by Simon Vouet, 1634,

Sets ©2005 & ever after by/to webmistress and made exclusively for Guarding the Cauldron and her partner sites. Please do not snag.