If this is a return visit, please reload to see
latest additions.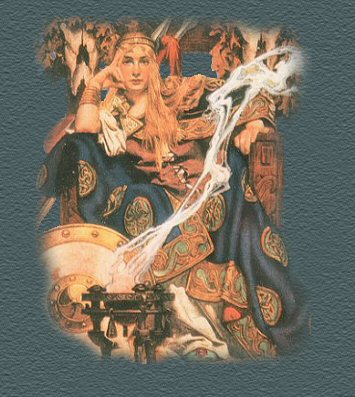 Raven Queen's Domain

 


This is just another experiment, though a little more heartfelt than most--a public musing, if you will. As handmaiden of this realm, I am duty bound to knowledge of he to whom this shrine is dedicated. As I learn more of the subject, I will place it here. For this is but a little shrine, hardly large enough for such a Giant as he, but hopefully, good enough, to shine eternally. :) Step through the various doors to read about the titan of Irish and Welsh Lore...



Bran the Blessed waits for thee and me



Site Index:
Literature--on site
The Voyage of Bran
Here is the text of the translated 8th century Irish tale, The Voyage of Bran. No copyright infringement is here intended. It is for your education and enjoyment. I do hope you will enjoy this copy of it.

The Romance of Branwen
This is the Welsh version of the tale of Bran the Blessed, first set down in the Welsh classic, The Mabinogion. This would be my recounting of it.

Other Celtic figures: On-site
Celtic Warrior Queens, Goddesses,
and Fighting men
(This link may be down. Sorry, I've yet to make a back up copy of it)

Offsite Literature (myths and essays) on Bran Mac Feobal, Bran the Blessed and Irish and Welsh culture, in general
Please, since these are all offsite pages, use your back button to return to this shrine, upon finishing each one. Thanks! :)

History as Literature: X. The Ancient Irish Sagas by Theodore Roosevelt, 1913.
WOW! A very cool article on the ancient sagas under investigation, here. By Theodore Roosevelt, no less. Very interesting.

Early Religions Of The Irish: Irish Gods
A fascinating 19th century essay on the religions of ancient Ireland.

PROLEGOMENA TO THE STUDY OF OLD WELSH POETRY by EDWARD ANWYL (from Transactions of the Honourable Society of Cymmrodorian [1903])

Voyage of Bran-Historical Background
Historical background essay on the Irish tale/myth The Voyage of Bran. This essay is a work by Alfred Nutt, quoted and referenced by Joseph Campbell in his Occidental Mythology ©1964.

History, Myths, Poetry, Essays
(The next few offerings are new additions for your reading pleasure. As with the above, all these are offsite, so please use your back button to return to our shrine. :))

The Voyage of Bran: (Old Irish Version)
For curiosity's sake. :)

In Search of Ancient Ireland | PBS
The companion to the interesting PBS series running currently. I find the series... somewhat lacking in terms of their coverage of the mythic past (they could have given more than 3 minutes to the Tain), but nonetheless it has been interesting.

Irish Witches by John Hurley.
OK. To be honest, I can't really find a true reference for this authorship or where this article originated. John Hurley apparently did write a book--on Irish stick fighting--but as I'm ever-conscious of copyright, I'll just take no responsiblity for swiping Mr. Hurley's copyright (truly attributed or not) and point you to this fella's page, if you'd like to read the article. I found it very interesting, though. Enjoy.




Other Reading:
Reviews Archive 2000-2007
Classics Archive

Other stuff:
Raven and Rose Cottage

Immortal Grace




Celtic Blinkie found at: Pinky Blinkies

More to come...




Updated May 21, 2007

Raven Queen's Domain, thoughts, all (forthcoming) critical essays, and other original pages copyrighted 2003-2008 to the webmistress and her contributors. All websets, ART, and group graphics copyrighted to their creators; re-tellings of Bran's Myths (eg Branwen, Daughter of Llyr, from The Mabinogion) copyrighted to the webmistress; the telling of the Voyage of Bran, subsequent outside links (Eg. articles on Irish culture, myth and poetry) copyrighted to the respective creators and used with respectful permission.All contents on this site are ©2003-2008
Exclusively for Lady Collbran and Raven Queen's Domain
unless otherwise noted
All Sets were designed by
Nadakyn Creations
Nothing may be taken without permission.