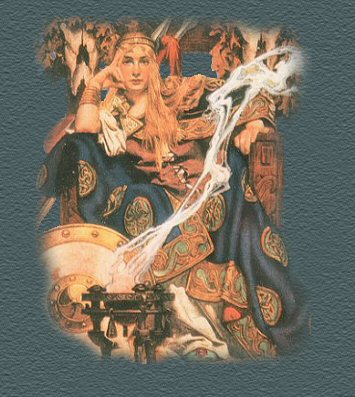 Bibliography
Joseph Campbell, Masks of God: Occidental Myths

DJ Conway, Celtic Magick

DJ Conway, Ancient and Shining Ones

Peter Berresford Ellis, The Celtic Empire

Jeffrey Gantz, translator, The Mabinogion

Jeffrey Gantz, translator, Early Irish Myths and Sagas

Prudence Jones and Nigel Pennick, A History of Pagan Europe

Thomas Kinsella, The Tain

Charles Squire, Celtic Mythology

Maire Brennan The Voyage of Bran (celtic music cd)

Online:
Lady Charlotte Guest, The Mabinogion
See, the Second Branch: Branwen Daughter of Llyr

Alfredd Nutt, The Voyage of Bran at Celtic Heart.
Be aware, there is an oddity, here: When you click in, it throws up a name/password box. Just click enter three times and it will pop you past the Name/Password boxes and Enter button, and allow the page load fully.

Immram Bran -- The Voyage of Bran at Danann.org

Encyclopedia of the Celts : Broceliande - Bwlch Y Saethu
There are two (very nice) explanations of Bran Mac Feobal (the Voyage of Bran) here. Scroll down to find them. Many other Bran's are mentioned too, from Bran the Blessed to Fin Mac Cool's dog Bran. Enjoy.


All contents on this site are ©2003-2005
Exclusively for Lady Collbran and Raven Queen's Domain
unless otherwise noted
All Sets were designed by
Poeticdreaming Creations
Nothing may be taken without permission.